November update
Monday 1st November, here we go again, another month. We are getting there, the day we can get the loco back on her wheels is getting closer. Today we received the felt to make the pads for the axle boxes, Steve T is going to cut these out for us, as a saddler he is used to sharp knives! Phil H was working on the pony truck slides Bob L was painting the rear of the frames. Tony H and Charles L Fitting split pins and cleaning parts in the bosh.
Now I must apologise, I put notes on my phone and photos. It all went wrong this month, as I managed to delete my notes! Therefore I am working from memory and if I miss anything I am sorry! This month is getting worse for me, I have a problem with my foot which means I am stuck at home. Therefore I am grateful to the boys for the information and photos.
The first job for the boys on the Monday after storm Arwen had passed through was to refit the sheet on the van.
Once we had a close look at the under keep pad carriers we found that the springs were life expired. Will Marsh of the full time staff has ordered us a full set for us. We are also going to fit water drains to the under keeps, we'll also be fitting new filler's to four of the ten axle boxes.
Dave M and Steve M have been getting the inside of the frames and the motion up to topcoat Venetian Red. Bob L has been working in the comfort of the paint shop, working on lots of the small bits that make up a steam locomotives.
Gareth A has made a flange for the bottom of the bunker so we can fit a drain. He also made a bush for the pony truck that was missing - see the photo.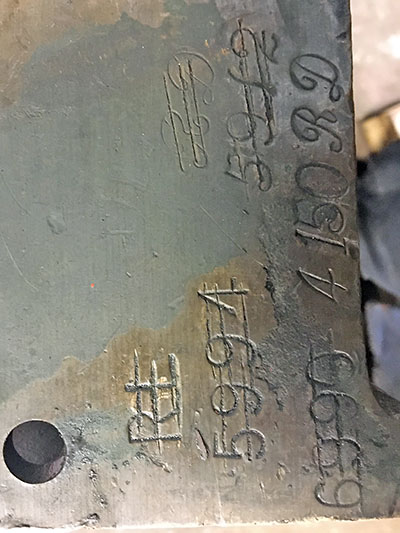 The right driver under keep, as you can see it has been about a bit!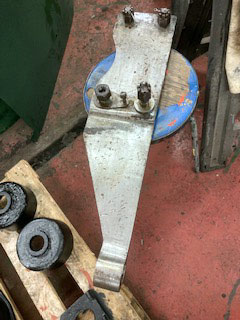 The vacuum pump drive bracket removed from the cross head so we can replace the felt pad. Photo Dave Mc.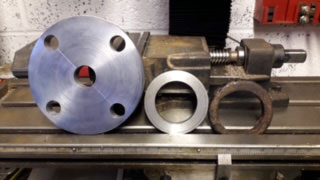 Flange and bush for the bunker and pony truck. The original one is on the right. Photo Gareth A.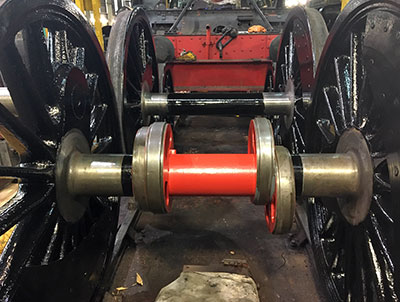 The driving wheels and trailing wheels all ready to to go in, we will fit the eccentric straps as soon as we have made the lubrication pads.