May 2021 update
By Pete Maddicks
First working day at Bridgnorth was Saturday the 8th May, the boys first job was to sheet down the loco. This job was done by Tony H, Bob L, Simon B, Kevin S and Peter D.
All it did all day was rain, inside and outside the shed. The Charitable Trust is running an appeal to fit a new roof on the shed. The Home and Dry Appeal. If you can help please do, and as we will be in the shed for the next year or so, it will help us a great deal too. If you would like to help, click here.
The boys then had to have a move around in the van, as the door we have been using at Bewdley is now against the wall of the platform 2 waiting room. A start was made on getting an electrical supply to the van, we need a few bits and pieces to finish it off.
As this was going on, Martin W, Bridgnorth works manager, Dave F-I. and I had a meeting to discuss the program of works to get the loco running, I hope to give you more information next month.
Now that the loco is at Bridgnorth, we have a few jobs to finish off at Bewdley, before we can start working on the loco, we have to dismantle the lean to, in which we built the tanks. We carried this out the following Monday. This has got to come down as there is some essential maintenance to do on the paint shop.
The next Saturday I finish off the electrical supply to the van, now we can make tea, the fridge and microwave work. The boys made a start on preparing the cab roof and bunker to come off. They also took down the backhead cladding.
The following Tuesday Bob L and Tony H removed the cab floor. Bob painted the underside. Tony and I refitted the front vacuum pipe. We spent some time getting ready for the lift of the cab roof and bunker.
We were lucky to be donated a microwave, a worktop and some timber, we could therefore make a new area to make tea.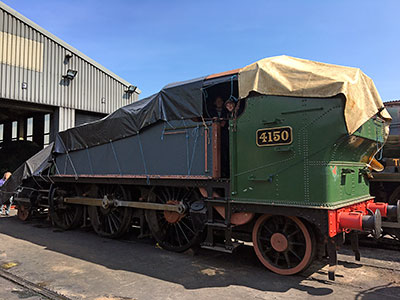 The loco all sheeted down, to protect it from the weather until she can go in the shed.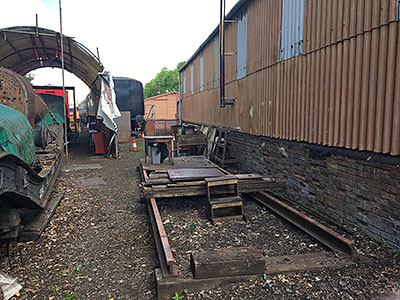 There it was, gone! The shelter where we built the tanks has gone. Photo by Tony Howard.
The new tea area, total cost £0.00!