June 2020
Chairman's update
Well there is some good news at last, the SVR have come up with a plan for us to get back to work. It is not going to be a quick process, but at least we are making some. It is hoped we will be able to get back to work on Monday the 6th July, but that will depend on it all going to plan and no second wave, therefore we hope next month we will be able to show you some real progress. The boys are keen to get back to it as soon as possible. Not much progress to report this month, but we are working to get things moving as soon as we get the go ahead.
Frank Walkers funeral was held on the 11th June and was for family only, as the regulations say, but the cortege started at Bridgnorth station, so the railway family could say there goodbyes. The just giving page, in Franks memory has raised the magnificent sum of over £4700, this is a fantastic amount of money. We will spend our share wisely and let you all know what we have spent it on soon.
We have been looking for more photo's from the past and this is what we found this month.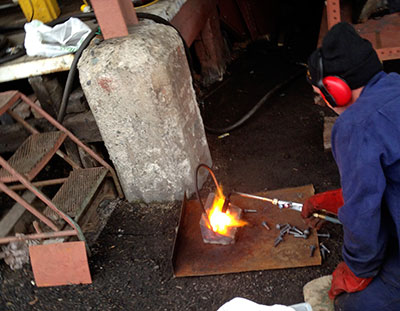 Dave McFall heating the rivets for the bunker in November 2015.
A short video clip of the bunker being riveted in on the same day, Phil Davidson on the gun.