Restoration update - June 2012
The rebuilding of the bunker continues well and a start has been made to the side tanks.
Come and see how we are getting on at the Peep Behind the Scenes weekend on July 21st & 22nd 2012. All proceeds from the sale of wristbands at the weekend will go towards purchasing the rest of the steel for the new tanks.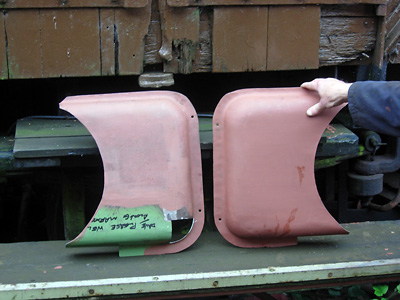 Repairs are being made to the awkwardly-shaped cladding at front and back of the valve chest. The one on the left awaits the welding in of a new corner. Photo: Tony Summerton.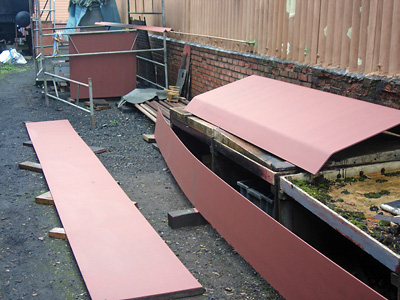 More new metal! Part of a recent steel delivery, showing (left to right) the left hand tank base, one half of the lower coal plate, angles for the tank bases, the right hand tank base, and the upper coal plate. The tank bases are over 19ft long, and the r.h. (driver's side) one is narrower to allow space for the reverser reach rod and the vacuum pump (see next photo). Photo: Tony Summerton.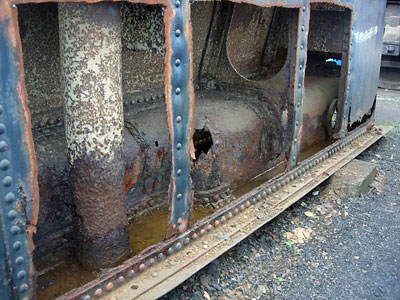 A view inside 4150's original right hand tank, illustrating the narrowness of the tank base. Photo: Tony Summerton.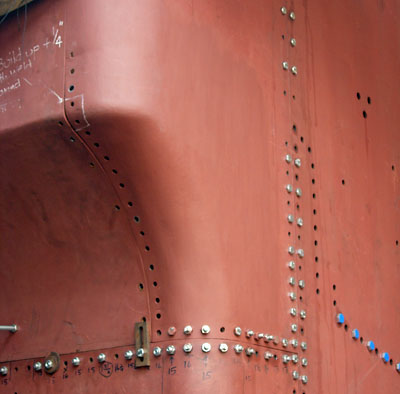 The right hand side of the back of the new bunker, with a section of the corner of the old bunker welded into the new corner sheet. Spot the join?? Photo: Tony Summerton.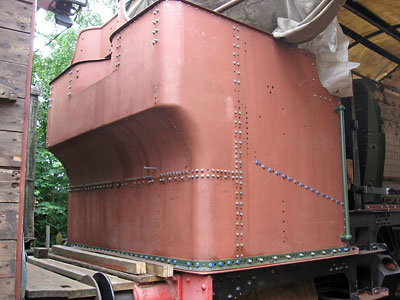 A wider view of the bunker, with the rivet holes along the base of the large central upper sheet now drilled, and the original top beading bolted to the new structure. Externally, the bunker platework is now complete, apart from handrails, steps, and lamp brackets. Photo: John Whitcomb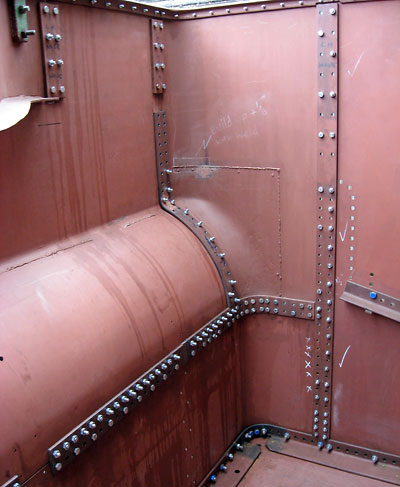 Internal view of the left hand (fireman's) side of the bunker, showing where the corner from the old bunker has been welded into the new sheet. Still to be installed are the angle which supports the upper coal plate, and four vertical angles which follow the profile of the bunker back - two 'T' angles which provide added strength, and two plain angles which locate the centre baffle. Photo: John Whitcomb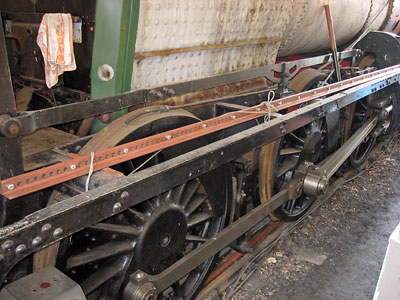 The outer base angles for the new r.h. tank, drilled, bolted back to back, and positioned temporarily on the tank supporting brackets. At nearly 18ft long, these are not the easiest things to store! Photo: John Whitcomb.