July 2018 Restoration Update
We are pleased to report that 4150's boiler was successfully moved to Bridgnorth on 18th June, diesel-hauled at low speed utilising a spare path in the weekday timetable. It was transported on Great Western Sleeper Wagon 40554 (for which we are most grateful to owner Paddy Goss and the Bewdley Wagon Department) and is currently stabled in the loco yard adjacent to Platform 2. It is scheduled to take the place of 75069's boiler in the SVR boilershop.
Meanwhile, work continues on the rest of the loco at Bewdley.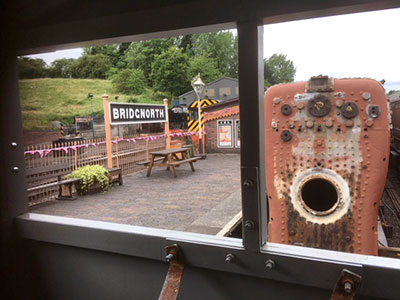 The boiler arriving in platform 2 at Bridgnorth in June in anticipation of its overhaul in the SVR boiler shop. It is expected to follow 75069's boiler into the shop once the latter has been steam-tested and fitted back into the loco's frames. Photo: Simon Beeston.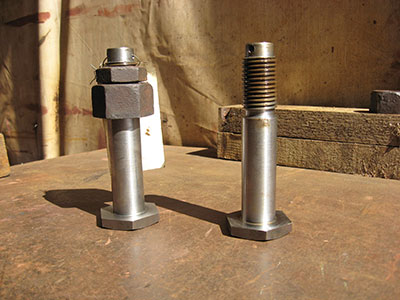 Two newly-machined pins for the brake gear, one for the vacuum cylinder and one for the handbrake. Photo: John Whitcomb.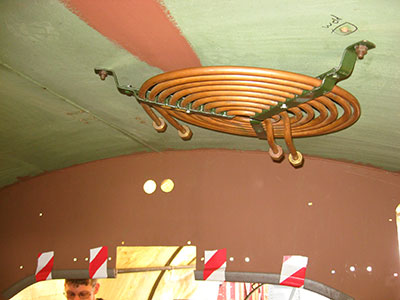 The condensing coil fitted temporarily to the cab roof, to enable holes to be drilled to suit the new unit. Photo: John Whitcomb.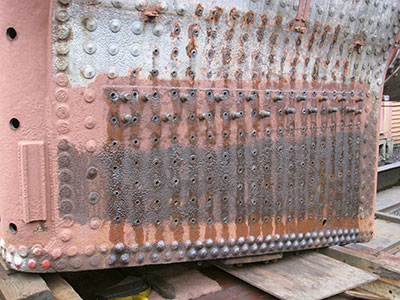 The steel stays on both sides of the outer firebox, some 400 of them, have been drilled out by volunteers at Bewdley, prior to the boiler being moved to Bridgnorth. Photo: John Whitcomb.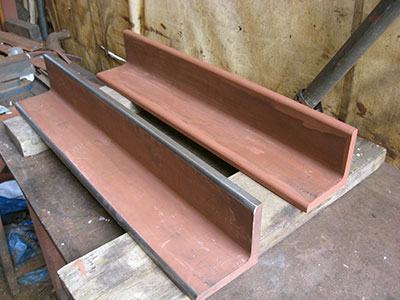 Two new angles which will attach the frame stretcher to the frames below the cab floor. We were unable to locate 5"x5" angle of the required thickness, so these have been machined down from 200mmx200mm. Photo: John Whitcomb.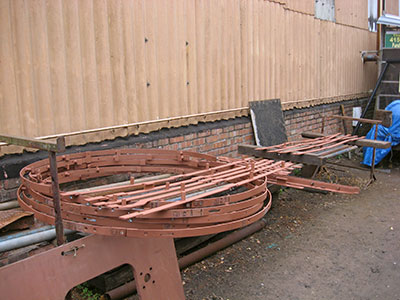 The crinolines which support the boiler cladding have been dismantled, labelled, and painted prior to storage until the boiler overhaul is complete. Photo: John Whitcomb.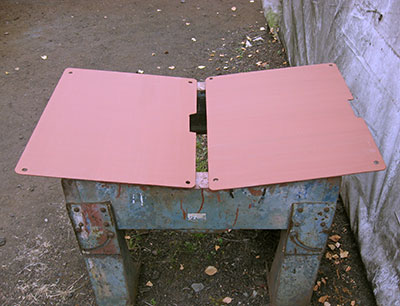 New cover plates have been made for the cut-outs in the frames behind the driving wheels. Photo: John Whitcomb.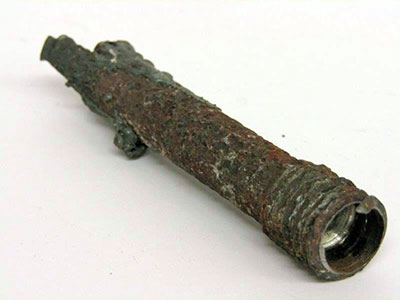 The reversing lever quadrant bolted in position on the right hand side tank. To its left are the floor-mounted cylinder drain cock lever and the tank-mounted lever for the front sanders. The driver's side of the cab will have a raised wooden floor which is 5" higher than the underlying steel floor plate. Photo: John Whitcomb.