February 2021 update
Well, first the good news, well over half the boys have their first jab and the rest should be done by the end of March. Therefore we hope that this will help when the lockdown is eased and we can get back to work. We are working with the SVR to come up with a plan to get the restoration back on track as soon as possible. It is not going to easy, as all groups are in the same boat, but we must find a way. Although the fleet has done very little work over the last year, their boiler tickets are still running and some will be coming to an end over the next couple of years.
Nothing to report on the frames this month, except that we have done security checks and all is well. As for the boiler, Peter Dodson and the boiler team have not been able to do any work, but we had permission to get the van and loco ready to be shunted out. We will get the loco ready, but the van must have a fitness to run exam, this must be done by a member of the C&W department and this was carried out by Graham Phillips and boys of the wagon department. Thank you boys. Two of our boys, Tony H., Philip H. removed the steps and made the tarpaulin secure. The loco will be oiled up closer to the day of the shunt.

Last month Tony H did a photo presentation on the big lift, Tony found a couple of photos of one of the tanks being fitted and one of it being fettled to make it fit. This month he is taking a look at the boiler cladding. So over to Tony.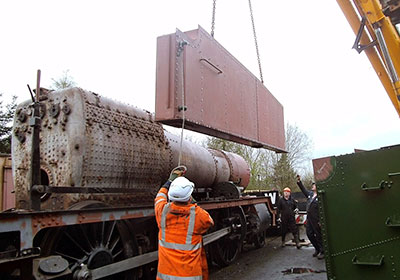 As Pete has said the first photo is the drivers side tank being test fitted.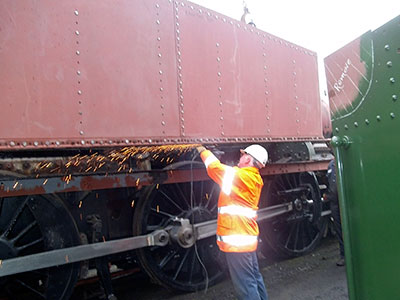 Photo number two is of Dave L fettling one of the tank supports, as it was a little to long.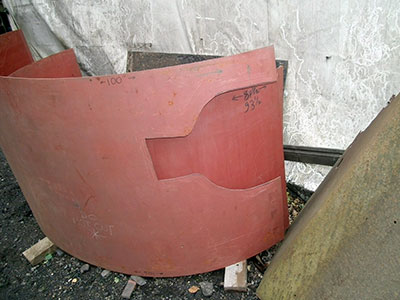 Photo No. 3 shows a cladding sheet with half of the safety valve cutout.
Photo No. 4. This is the hand rail, on top of the boiler, between tanks. It is attached to the crinolines.