August Update

By Pete Maddicks
May I first apologise for there being no July update, but not a lot was happening at Bridgnorth. August on the other hand has got off to a flying start. On Saturday the 7th the cab roof came off, followed by the bunker and all it did all day was rain! As the boys put the tools away it stopped! I could not make it on Saturday, but well done boys. Have you dried out yet? Thank you Tony for the information and photos.
Sunday and a start was then made on getting all the brake rigging off so we can get the loco on the jacks, we can then examine the axel box's and replace the oil pads.
On the Monday, Petal and co., arrived at Bridgnorth and started working on the rods, and by early afternoon they were all off. They then started on the brake rigging and assorted pipework. By Wednesday she was rolled onto the lifting jacks. Thursday morning and the wait was taken by the jacks, so the springs could be removed and by the end of the the day all but one driving spring had come off. Friday morning the boys have got it off. Then all that will be left to do is the pin for the A frame, the very large nut under the cover below the smoke box and the two oil pipes to the slide blocks to come off, then the pony truck will be ready to roll out.
Petal and co., are a group of mostly retired railway men, who have a reputation for being able to dismantle a locomotive in a very short time. I would like to put on record my thanks and that of the fund for all of their hard work, thank you boys it was a pleasure to work with you all and hope to see you all again soon.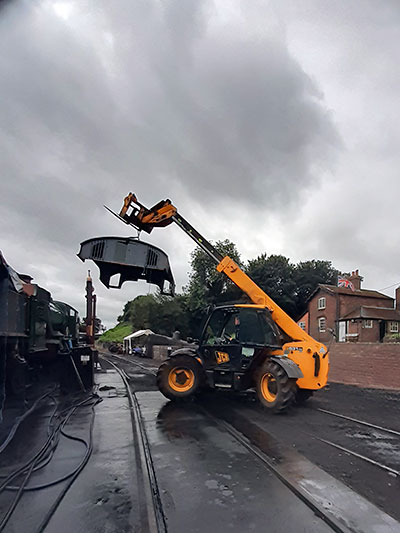 The JCB removing the cab roof. Photo: Tony Howard.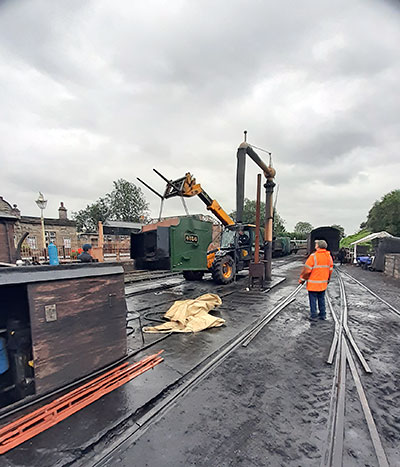 Next the JCB removed the bunker. Photo: Tony Howard.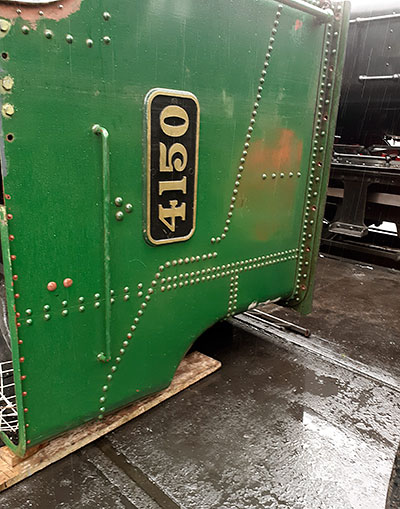 The bunker on it's back so the balance pipe reinforcing plates can be welded on.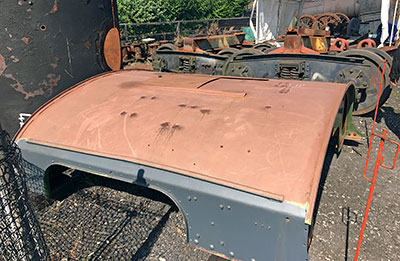 Cab roof, in the yard, now that it is on the floor we can get it up to top coat black.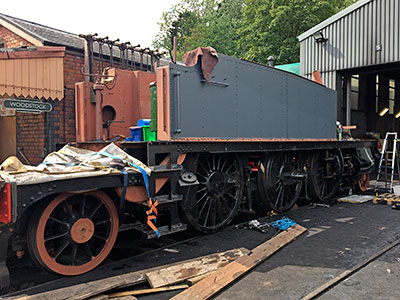 Loco outside the shed with the rods off.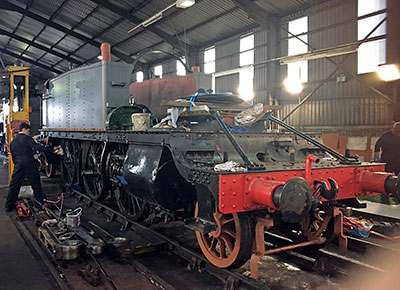 The loco rolling onto the jacks on Wednesday afternoon.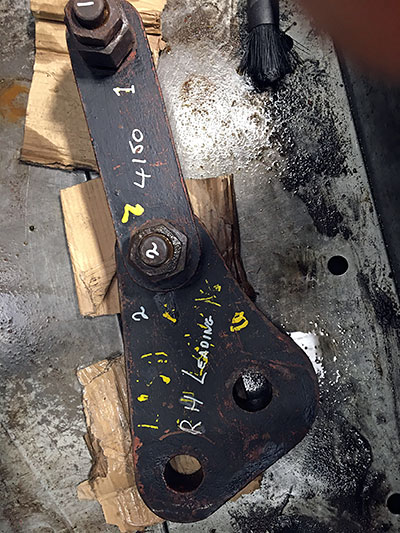 One of the four brake compensators, leading right (Drivers side), that has been through the cleaning bosh and ready for painting.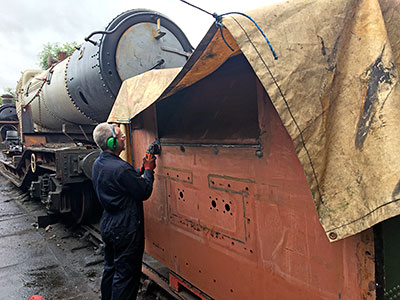 The reinforcing plates in place and Simon Beeston is dressing the welds.