August 2020
Restoration update
By Pete Maddicks
Well August has got off to a bad start, both personally and for the fund, my mum, Mary Maddicks passed away, at the age of 88. In the early days of the fund, the Monmouthshire Railway Society, would run, rail tours up the South Wales valleys. On which the fund would do the catering and my mum would make all the sandwiches. In the last few years she was always saying to me, "you had better get that loco finished, I am not getting any younger you know." She would also help my father during his time running the sales stand, at Bewdley and also at events like Rainhill. Sorry mum we did try.
Due to a recent fall incident, all work in Bewdley down yard has had to stop. We do not know how long this is going to last, but as soon as we can we will be back at work. No proper work has been carried out on the loco chassis this month, but the boiler boys are back!
We have also been told that work at Bridgnorth has slowed up considerably, due to the loss of revenue and the lockdown. It looks like the loco will not be able to go to Bridgnorth for up to 12 months, as we will have to wait for the Stanier mogul to come off the jacks.
4150 Boiler Overhaul Update
By Peter Dodson
Coronavirus has put back the work on refurbishing the boiler by 3 months, which is a pity as progress had been very good until March this year.
The crown stays were delivered by the 'barrow load'. They have all now been fitted and caulked. The 60 crown stays, inside the firebox, that are not fitted with protective nuts, are being reduced in length ready for them to be worked over. 75% of the patch screws have been fitted, with the remainder being completed when the boiler is turned over. The drop gate assembly has been started, with the drop gate bar already purchased and teeth supply in hand and all the fire bars will be ordered shortly. The ash pan material has been delivered and it is hope to make a start on the assembly in the beginning of September.
The good news is that an order has been sent to weld up the corroded areas on the boiler.
In summary work is progressing well.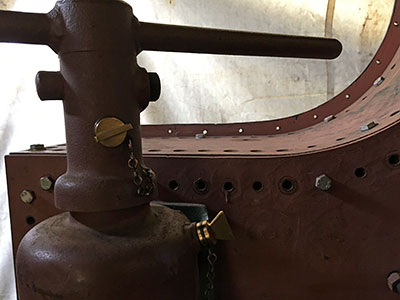 The new oil plugs, fitted in the handbrake, made by Philip Hammond from old boiler plugs. Photo: Tony Howard.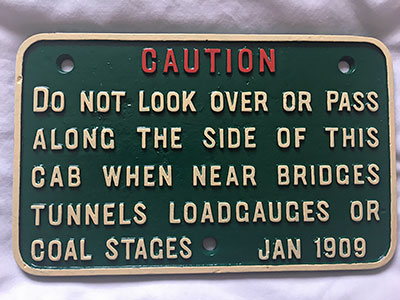 A closeup of the new Do not look over the side of the cab sign.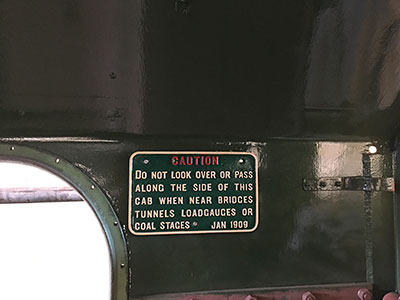 The new sign, put up to see if the holes lineup and they did!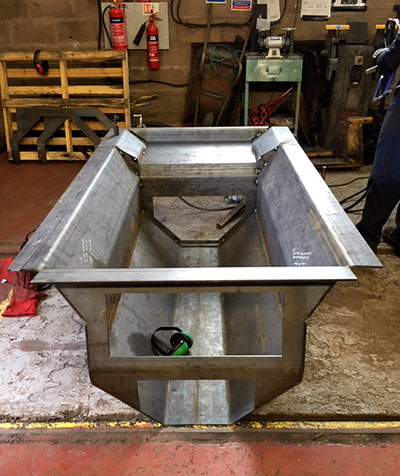 The new ash pan tack welded together at Bridgnorth. Photo: Simon Beeston.