August 2019
Restoration update
At Bridgnorth, work on the boiler continues to proceed at a rapid pace, thanks to an effective combination of volunteers and boiler shop staff. At Bewdley, work continues on the bunker (now virtually complete), the cylinder and valve cladding, and the cab floor. The new steel pipework (steam heat, vacuum and injector delivery) is substantially complete, and we are now having to master the art of copper pipe bending, for pipes to the water valves and injectors.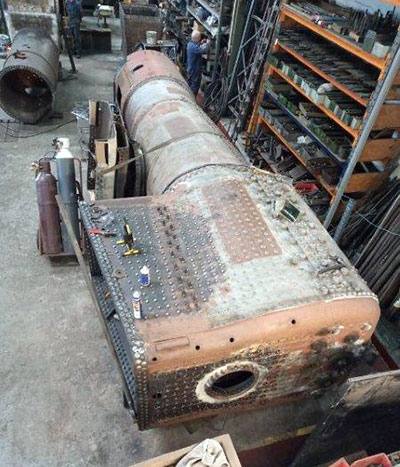 With work on the lower half of the firebox complete, the boiler has now been turned onto its side. Photo: Peter Willoughby.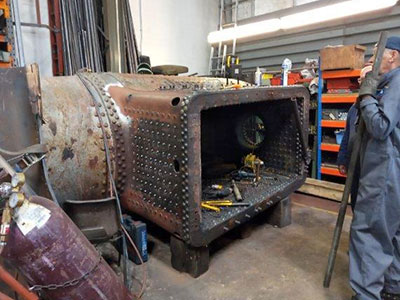 New rivets in the foundation ring and new stays in the throat plate. Photo: Peter Willoughby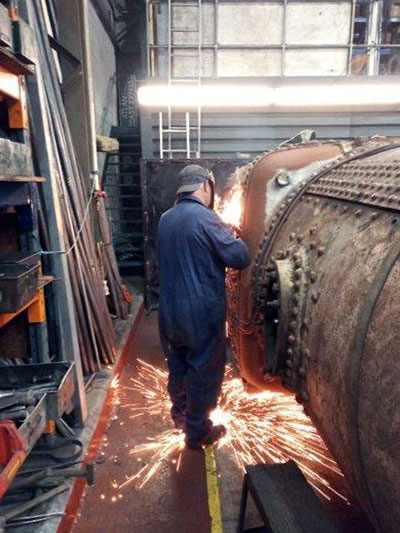 Burning off the nuts from the crown stays on the top of the firebox. Photo: Peter Willoughby.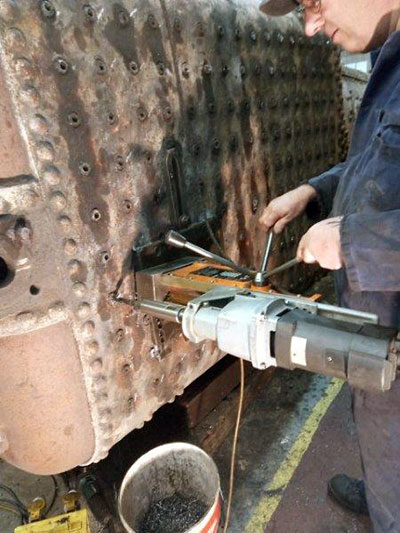 Pilot holes being drilled through the top ends of the crown stays prior to burning out. A movable flat steel plate provides a stable base for the magnetic drill. Photo: Peter Willoughby.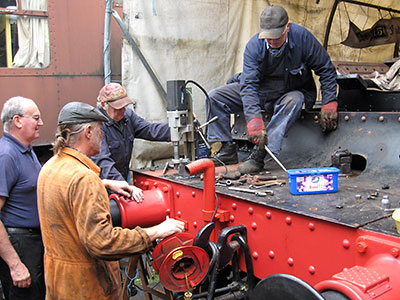 Aligning the running plates at the front of the loco (note the usual ratio of one working, three watching!).... Photo: John Whitcomb.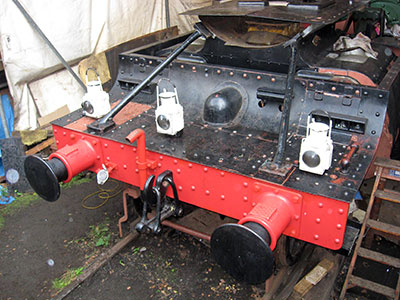 ...and the end result, with lamp brackets in place (but the centre lamp wrong-side and the shackle on the wrong hook, but only temporarily!). Photo: John Whitcomb.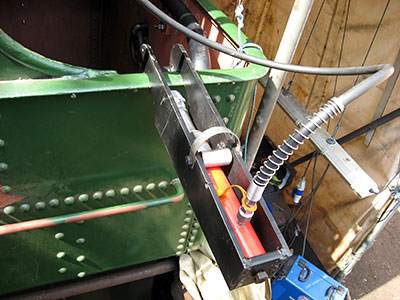 A custom-made hydraulic ram and jig designed for riveting the beading onto the bunker and tanks. These are quarter-inch rivets which can be installed cold (and silently) with this apparatus. Photo: John Whitcomb.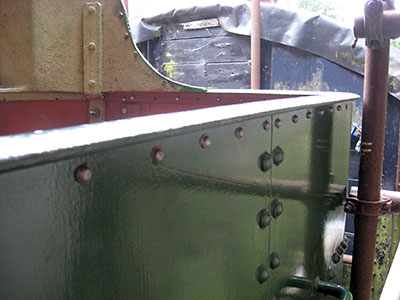 The beading on the left hand side of the bunker, with new rivets in place. Photo: John Whitcomb.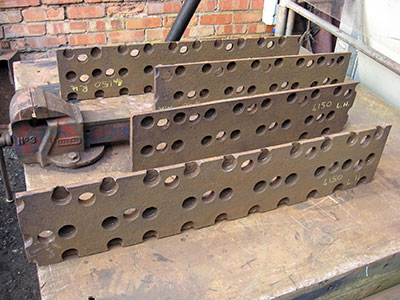 The expansion plates which allow the firebox to slide backwards slightly on the mainframes as the boiler expands (the smokebox end being firmly anchored). These have been cleaned and sent to Bridgnorth for re-attachment to the firebox. The holes locate on studs in the firebox sides, while the 'blind' holes are to cover the protruding heads of firebox stays. Photo: John Whitcomb.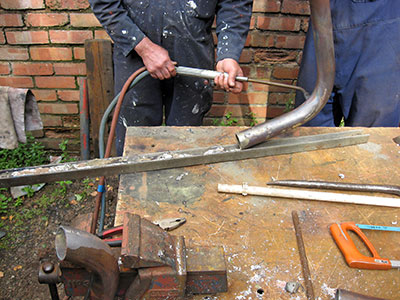 Bending a 2" copper pipe, this one from the base of the bunker to the water valves. The pipe had been filled with lead before bending to prevent it collapsing, and here the lead is being melted out afterwards. Photo: John Whitcomb.