April Update
By Pete Maddicks
After the shunt we decided to take the bank holiday weekend off, as the weather was going to be so bad! Well as you all know it was beautiful. Good old British weather you can't beat it!
I must say that the loco rolled very well, with the vacuum pump slapping away. I had a ride on the old girl for the first time since, I think 1978?
Now that the loco is in the front of the yard we must be ready to move to Bridgnorth as soon as we get the call. We have a fair bit of stuff to load into the van and put on the loco.
We are hoping to get the loco on to the pit in the next few weeks as we have quite a few half nuts and split pins to fit. Tony ordered the half nuts, but we have the split pins in stock. We will also run a spanner over all the nuts and bolts to make sure they are all tight.
We spent the first Saturday moving parts from the container to the van, it is now pretty full. Monday we had a good look over the motion and found a few split pins messing. Charles and Tony then spent Monday fitting them. Dave L and Monday Steve were working out how to get the cab floor installed, drawing up a cutting list for the wood so our supplier can cut it.
Well we got the call and we have two weeks! We therefore stopped all work on the loco, except jobs to get the loco ready for the move.
On the Tuesday before the move the loco was moved onto the pit and we found that part of the brake rigging was on upside down, not easy to see without a pit and impossible to put right without one.
We have therefore arranged a working week to get all of the jobs done before the fitness to run exam on the Friday morning.
Well we made it and at 1534hrs., we set off for Bridgnorth. The 09, Dick Hardy leading, then the fruit D, loco, LMS brake van and SR brake van. We had a good run to Bridgnorth, the only problem was a hot axle box on the fruit van, so we dropped the keep at Highly, cleaned the pad and put it all back. It was cool at Bridgnorth. We left the loco and van on the shed and set off back to Bewdley. Very tired, but happy.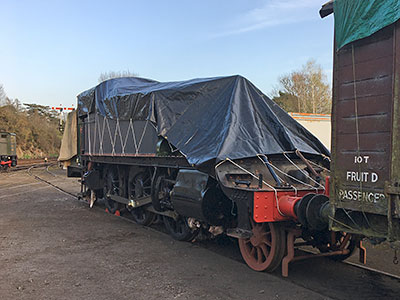 Waiting in the down yard on Tuesday morning to move to the pit.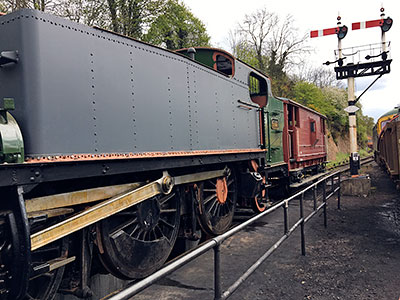 On the pit, all of the jobs are done and waiting to move to Bridgnorth.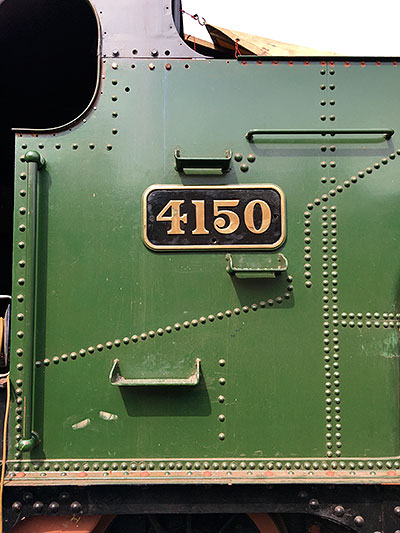 Both number plates were fitted for the run.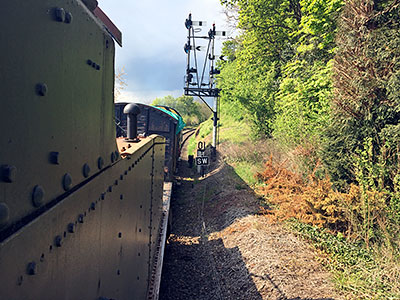 Leaving Bewdley, going north for the first time, possibly the last time was 1947, 48?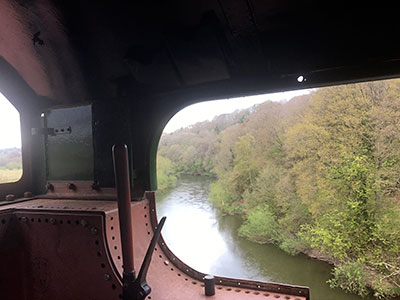 Crossing the river seven.
A short video of the loco on the move towards Northwood Halt.